It is important to backup Exchange email to PST file format because the EDB mailbox emails play important role in an IT organization & other industry verticals. As it uses as a mode of communication between users, clients, employees, and other people within or outside the organization. So, it is necessary for users to backup the Exchange database mailbox emails to the Outlook data file to keep it safe, secure for future use and as a storage purpose too.
As we know that Exchange EDB file is prone to corruption and if any .edb file gets corrupted and damaged then there are chances of data loss while repairing the database. If any company loses Exchange email data then they have to face the repercussions of it such as: they will lose their client trust, face financial loss, legal charges, disrupt the workflow, lower down the company or organization reputation, and sometimes they may lose their business. These are the major issue that companies have to go through if they lose Exchange mailbox email data.
Besides this, the other major reason to backup Exchange email to Outlook PST file is the storage space issue. As the Microsoft Exchange Server is used in small, large, and medium scale organizations which means that it contains data in bulk, and space size is the major concern nowadays. So, what users are doing is that they are exporting the older emails to the PST file format to reduce the storage space and for the backup purpose too.
Suppose if any disaster occurs which damage the server and all the data of it get permanently deleted or lost then in that case from this backup file users can easily access and retrieve the data back into Exchange Server by importing the PST file into it or they can also import it into Microsoft Outlook.
Solution to Backup Exchange Email to PST File Format
Users can use the Exchange PowerShell New-MailboxExportRequest cmdlet to export the Exchange database mailbox email into Outlook PST file format. But before using this command it is necessary for users to assign the Mailbox Import Export Role because this command is only available in this role and by default Microsoft doesn't provide this permission.
Insert the following command given in the below section to assign Mailbox Import Export Role:
New-ManagementRoleAssignment–Role "Mailbox Import Export" –User "insert username"
After assigning this role you have to generate the shared folder to savethe exported Exchange email in form of PST file and provide the read/write or full control permission to the Exchange Trusted Subsystem Security group of that folder.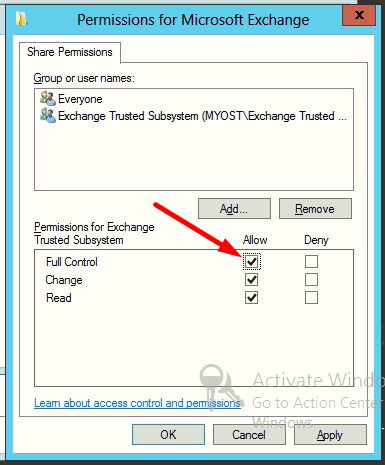 Use PowerShell Command to Backup Exchange Email to PST FileSyntax:
New-MailboxExportRequest-Mailbox "enter_name_of_exchange_mailbox"-FilePath "enterUNC network shared path"-IncludeFolders"#Inbox#"
Example:
New-MailboxExportRequest-Mailbox "Currie"  -FilePath "PCExchklm.pst"-IncludeFoldersInbox
This command export the emails of the "Currie" Exchange database mailbox to the Outlook data file.
ShortcomingOf Manual Solution
1.Need technical skill, knowledge & hands-on experience
2.Prolonged and time taking method
3.Does not export Offline Exchange database file emails to PST file
4.Cannot work in a proper way with corrupted or damaged Exchange database
5.This solution can't export EDB emails from multiple mailboxes. Only export from one mailbox at a time.
BackupExchange Emails from Offline EDB File Via Automated Wizard
EDB to PST Converter Software is the advanced tool that is developed and designed with an advanced algorithm that is used by numerous IT experts, Exchange and Novice users to export Offline/discounted exchange EDB file data into PST file format for backup & storage purpose. This utility support dismounted/offline Exchange database file (Public and private) and it offers categories filter option to export the selected data items such as: mails, notes, tasks, contacts, calendars, journals from multiple mailboxes to the Outlook data file and various other file formats.
Users can select mails from this filter option and take the backup of exchange emails to the Outlook data file in a simplified manner without using any PowerShell cmdlet. Also,it provides Quick and Advance scan mode option which recoversExchange database file from minimal & major corruption. After recovery, users can easily export the recovered EDB mailboxes or data items directly to the Outlook data file in a hassle freeway. This software support all versions of Exchange Server 2003 to 2016. So, users easily load any version of .edb file and perform their job.
Steps to Export Exchange Emails to PST File Format
Step1: Download& Install the automated software in your local machine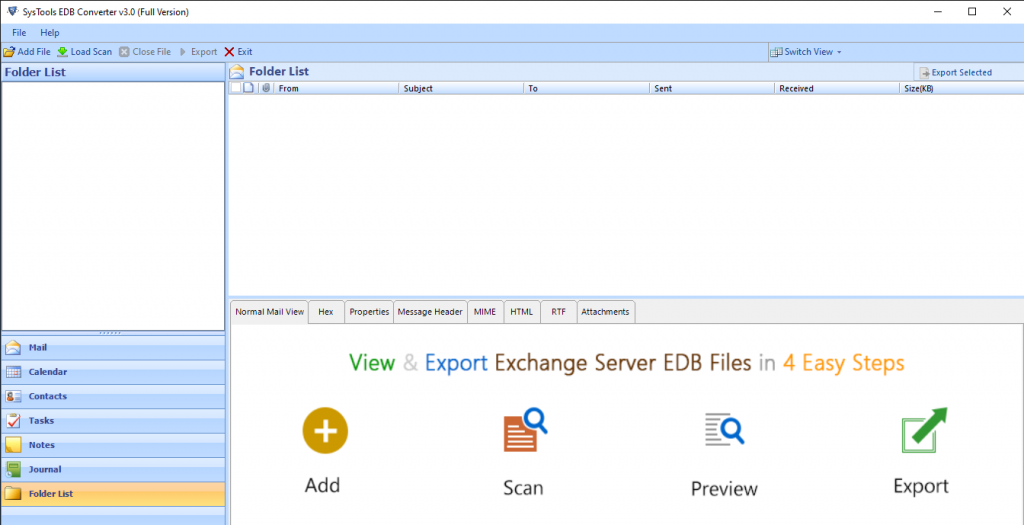 Step2: Then, click on Add file >> Load dismounted/offline Exchange database file >> Click on the add button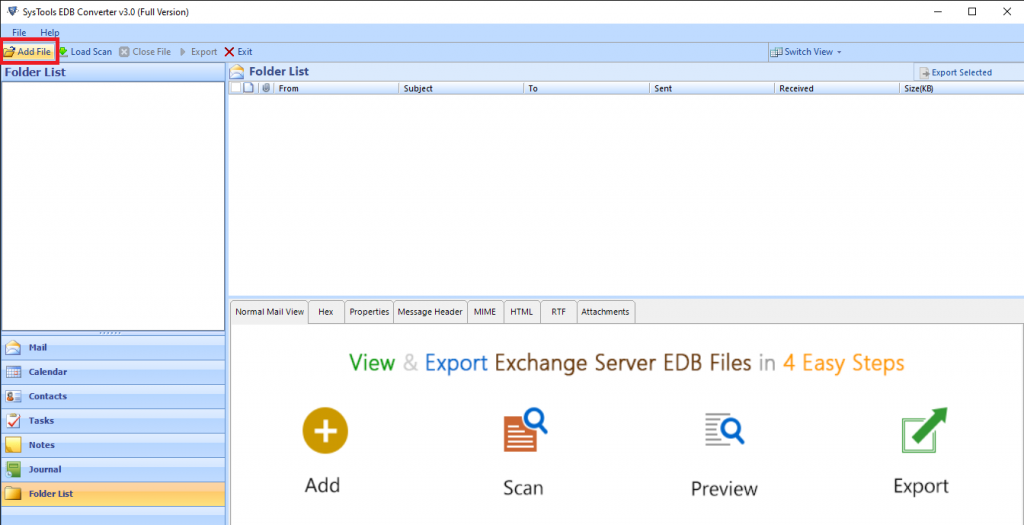 Step3: Preview mailboxes and data items >> Click export button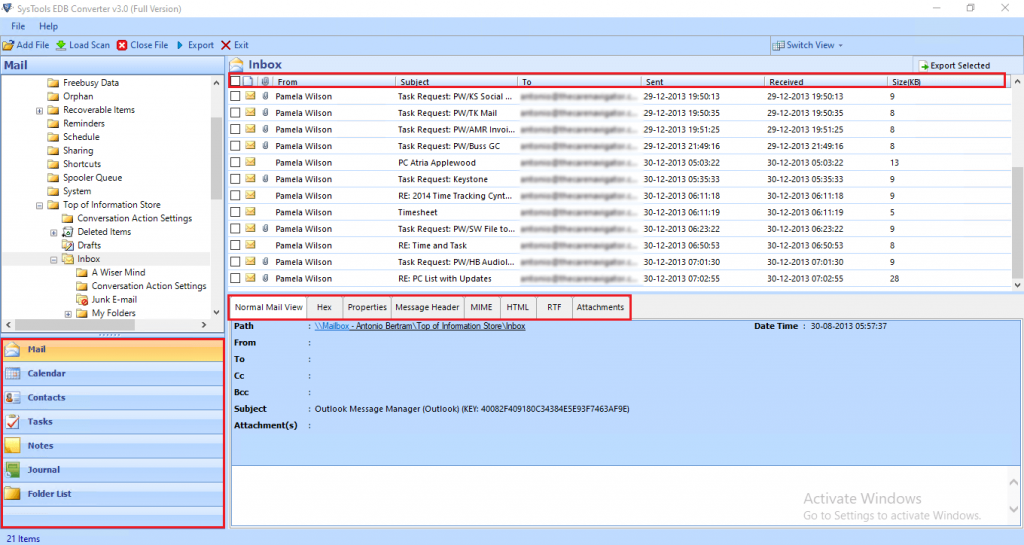 Step4: Select EDB mailboxes >> Click on the PST export radio button >>Select Advance settings button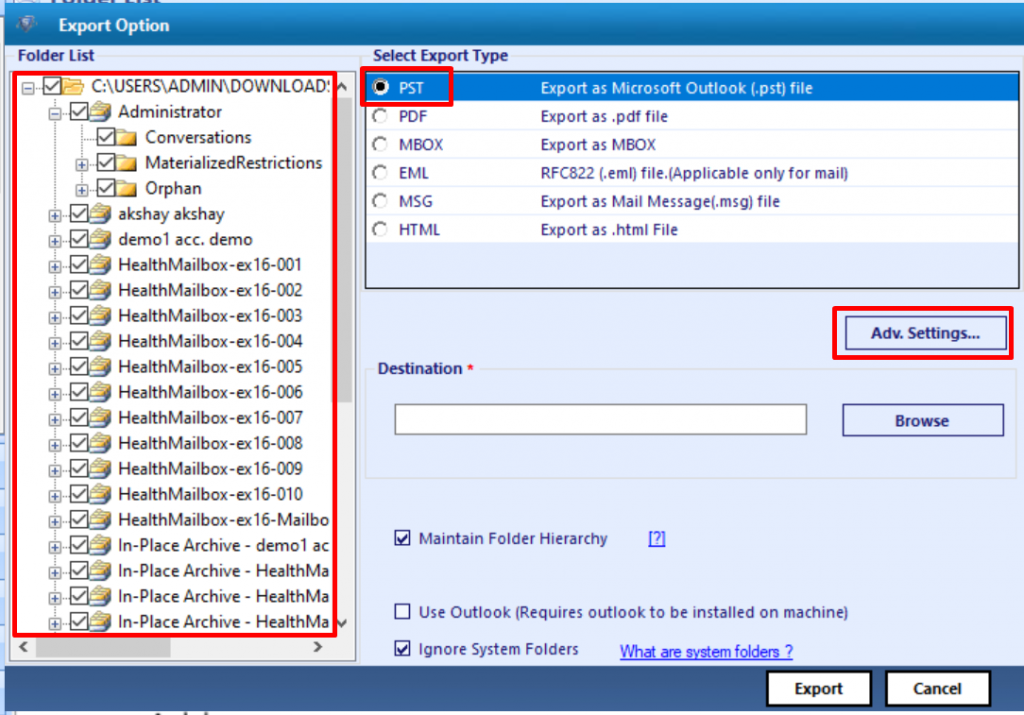 Step5: From the categories option, click on mails checkbox >> Click on the save button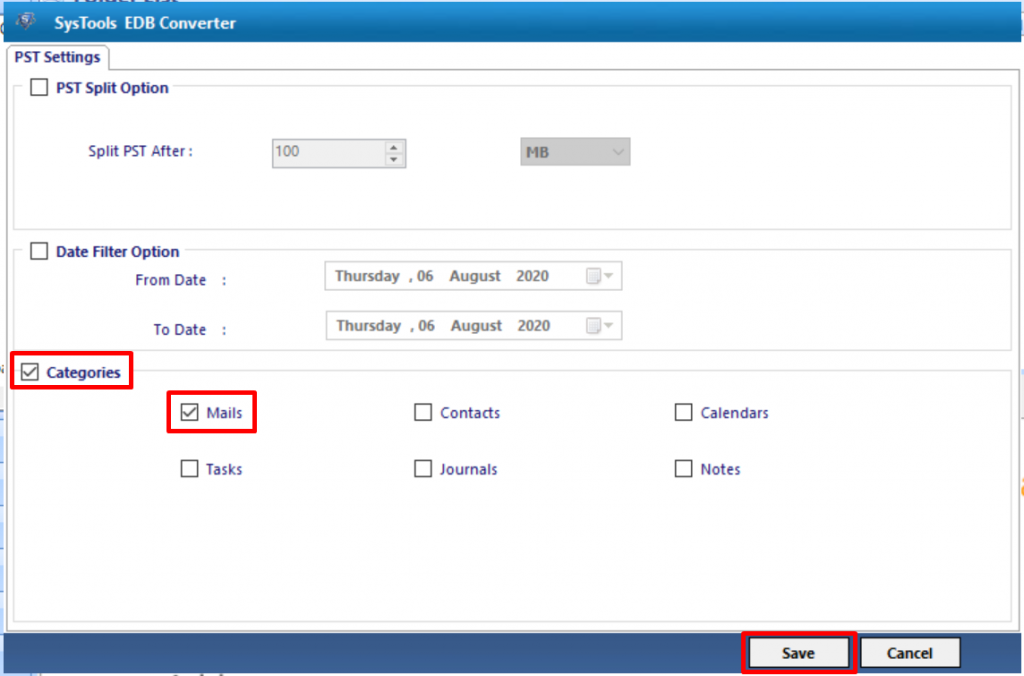 Step6: Select browse button to set target file path >> Click on the export button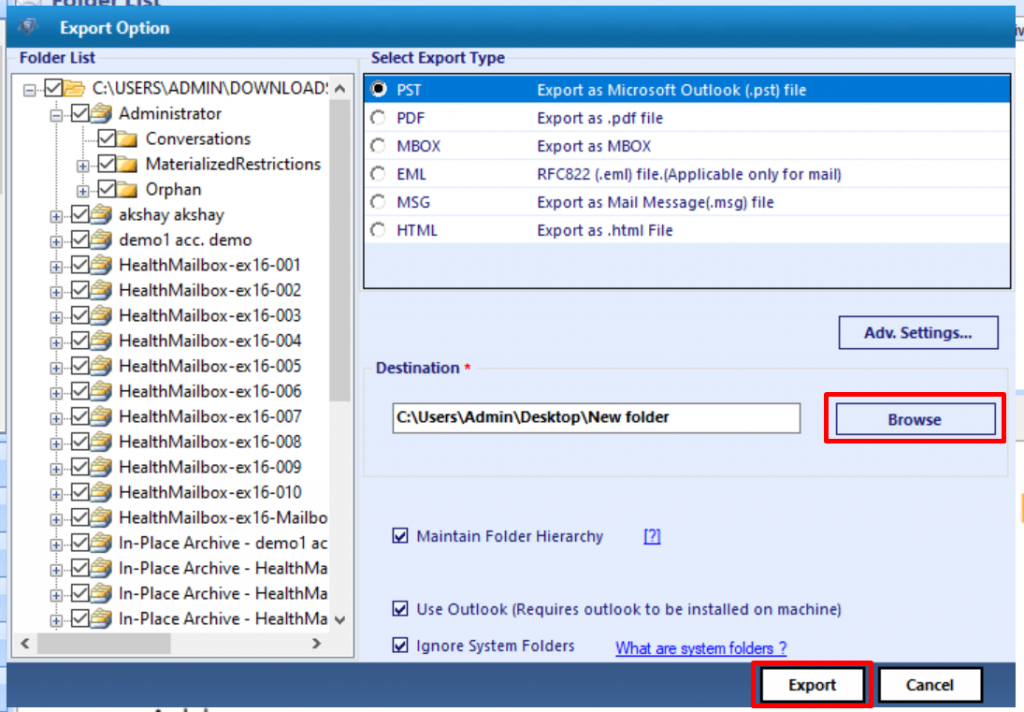 Finally, the emails are successfully exported from the selected mailboxes to the Outlook data file (PST) format.
Bringing All Together
The company or organization users use Exchange database email as a mode of communication and store essential information. That's why it is required or need to backup Exchange email to PST file to keep the data safe as well as secure. This write-up provides two possible solutions to export Exchange emails and users can select the solution as per their requirement and export the Exchange database mailbox emails to the Outlook data file without any hassle.