Residents of the country find themselves having to deal with increasing auto thefts alongside the deadly COVID virus. Multiple reports suggest that different parts of the country are witnessing a fluctuation in auto theft rates. With a high number of motorists staying indoors, the pandemic is providing a perfect climate for carjackings. In numerous cases, with motorists following the stay-at-home orders, they remain oblivious to the fact that their vehicle has been stolen. Interestingly, some trends also show a decrease in auto thefts. Notably, Dallas and Chicago.
Dallas saw a decrease of 19.6% between March and April, while Chicago reported a decline of 24% from mid-March. New York witnessed an increase of 63%, while Los Angeles saw an increase of 17% between March and April. Seattle PD has labeled these as "crimes of opportunity." Between March and April, Seattle PD has received over 300 reports of stolen vehicles.
Some cities are also seeing a decrease in auto thefts. But, the authorities are uncertain as to why this disparity exists in the country. Notably, Dallas and Chicago saw a decrease in auto thefts during this period.
Recoveries See an Increase
As auto theft rates are on the rise, authorities have been adept in responding to this increase. LoJack, a popular stolen vehicle recovery system brand, published its recovery report for May. The report suggests that there has been a considerable increase in total recoveries when compared to the same period last year. The top increase in recoveries has been in California-35%, Washington-25%, and Colorado-20%.
Consistent Decrease in Auto Thefts Before the Pandemic
There was good news for motorists in the country earlier this year, with a significantly consistent drop in auto theft rates over the last two years. Auto thefts in the country had dropped to a low of 686,603 in 2014. This rose to 772,943 in 2017 before dropping to 748,841 in 2018. This figure had further decreased in 2019. Among the ten places with the highest auto theft rates in the country, four are in California, namely Bakersfield, Merced, Modesto, and Yuba City.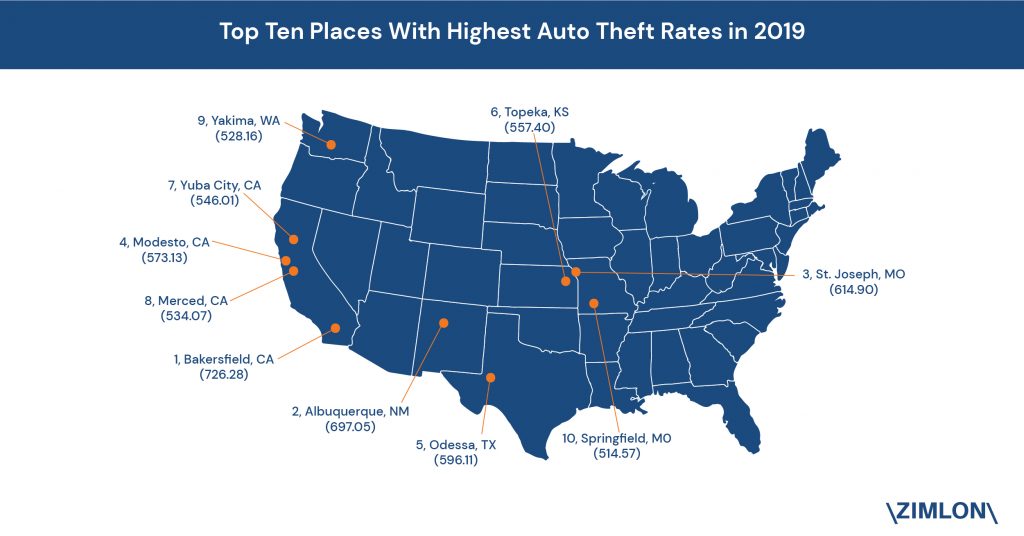 Source: III
This report also indicates that a fair number of these thefts occur due to the driver's carelessness. Between 2016 and 2018, 229,339 thefts occurred when the driver left the key inside the vehicle. Meanwhile, according to the National Insurance Crime Bureau's latest findings, in 2019, eleven states in the country saw an increase in auto thefts compared to the previous year. Missouri, Texas, Arkansas, and Nebraska are among these eleven states.
How do you protect your vehicle from being stolen?
Sometimes, an essential awareness of your surroundings could help you protect your vehicle. NICB also recommends that drivers follow four layers of protection to safeguard one's car from auto-theft. Namely:
Common Sense: It is essential to lock the doors and roll up the windows before leaving the vehicle. Common sense also dictates that you do not forget to take the key with you after securing the car.
Immobilizing Devices: Devices like smart-keys and fuel pump disablers will help immobilize the vehicle and prevent thieves from bypassing the ignition system.
Warning Devices: The most common protection layer in which an alarm goes off when someone attempts to break into the vehicle. Tire clamps and steering wheel locks are other visual devices that can add a layer of protection.
Tracking Devices: Devices that use wireless GPS technology in helping track your vehicle when it is moving. Modern tracking devices are developing new features, as explored below.
Anti-theft devices not only help in keeping your vehicles safe but can also help in garnering discounts on auto insurance. This reduces the risk of being covered by the insurer. The value of discounts that these devices fetch depends on the state in which the car is insured and a few other factors.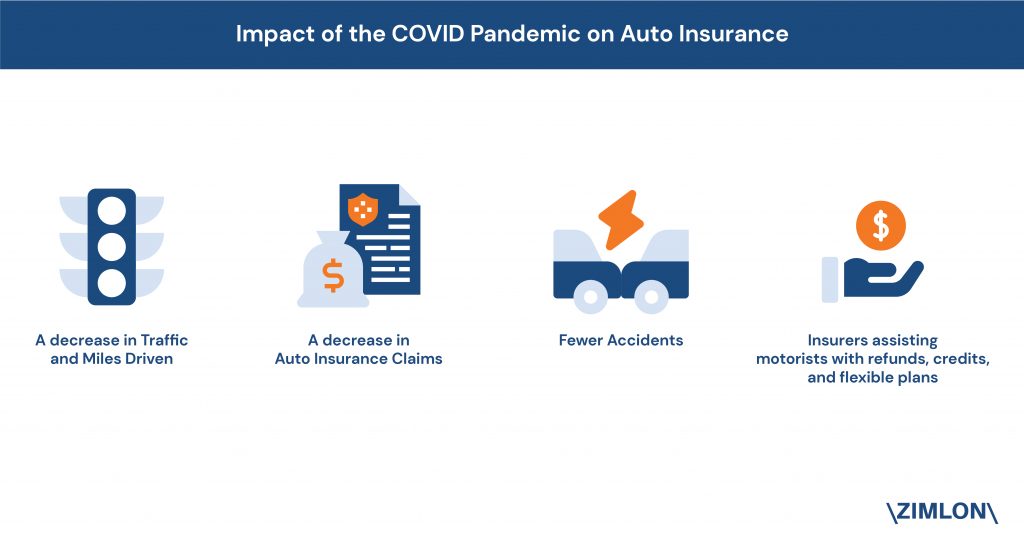 Best Brands of:
Anti-theft GPS Device:
GPS devices are mighty helpful in tracking the location of your vehicle.
Bouncie: Bouncie offers a plug-in GPS tracker that makes it quite easy to use. It provides several insights into reviewing a trip, right from the amount of time the vehicle was idle to the maximum speed and efficiency attained during the journey.
Spytec GL300 GPS Tracker: This is another efficient tracking device that can help keep your vehicle safe. The device has a battery life of over two and a half weeks. It also comes with an SOS button, which can be used in the event of an emergency.
Vyncs GPS Tracker: Vyncs is another brand that offers GPS tracking devices. It not just provides real-time locations but also includes information about the performance of the vehicle.
Steering wheel lock:
Car-lock systems can vary according to the size and model of the vehicle. Here are a few foolproof ways of keeping your vehicle safe.
The Club 2100: A car lock device that is most often used to keep your SUVs safe. This is resistant to sawing and hammering. It also provides added protection against lock-picking.
 Disklok: The makers of Disklok claim that it is the "world's strongest steering wheel lock." It is imperative to measure the diameter of the steering wheel before deciding on a lock.
Car key protector:
Disklabs Faraday Bags: While technology has improved by leaps and bounds to include advancements like keyless entry, this could also be detrimental to the safety of one's vehicle. Protecting the key in metal-lined pouches provides additional security for your key.
Dashcams:
CCTVs are equipped to protect your household from intruders; Dashcams serve a similar purpose in cars. Here are some of the best dashcams in the market that are provided to make your ride safer.
Thinkware Q800PRO: Thinkware claims that this is a dashcam that can "do it all." It comprises a 5.14 MP Sony STARVIS image sensor that is known for its clear video quality. Sony STARVIS also provides quality night vision. Its wide-viewing angle may also be an added advantage. Thinkware's cloud systems can assist drivers in tracking the location of their vehicles. Users can also set a geofencing radius. The user will be notified if the car travels beyond that radius.
Garmin Dashcam: Another high-end dashcam that possesses a 180-degree field of view. The device is quite compact and has a voice-control feature. The camera also saves footage if an incident occurs. It requires a memory card for storage purposes.
Zimlon aims to help consumers find insurance quotes at affordable rates. While insurance companies provide discounts to good drivers and students, improving the vehicle's safety can also help in garnering discounts. According to Zimlon's research discounts, anti-theft devices will range from 15 to 20 percent of your comprehensive coverage.