User-Generated Content – The component has been in the limelight in recent times among the marketers and the brands to leverage it in their marketing campaigns.
Brands and marketers are always looking for opportunities that can help them achieve their key objectives like trust-building, increasing engagement, and driving conversions.
In this quest, they have found an effective long-term solution called user-generated content, but how can you leverage this content or where to find it or how to get it for your brand?
The answer to these questions has been the emergence of tools known as UGC platforms. So, let's understand what exactly is UGC and what UGC platforms are along withe best UGC platforms for you.
What Is User-Generated Content?
User-generated content is the content that users have created and shared voluntarily on social media platforms and other digital platforms.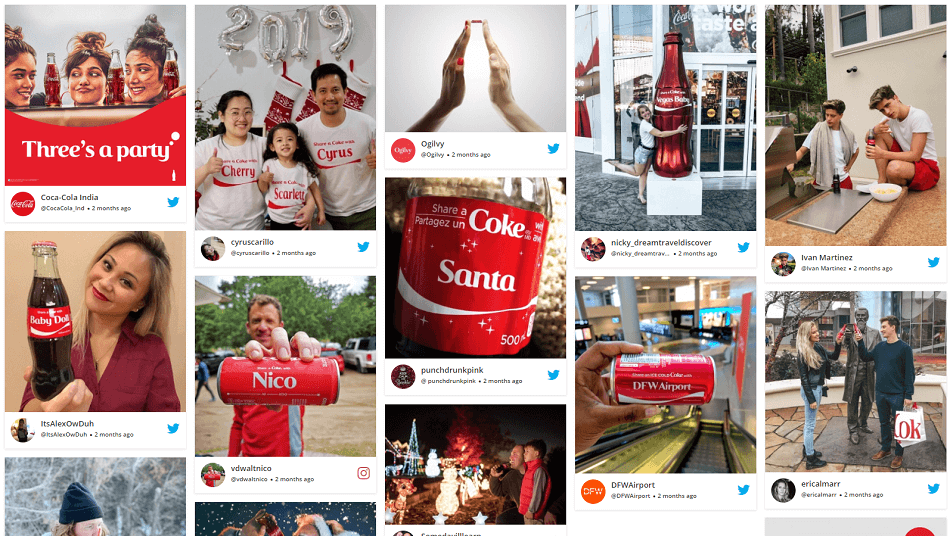 And when we talk about the marketing context, UGC is the content that users have shared relating to or about a brand based on their experiences and reviews with a brand and its products/services.
Since it is shared by the real customers of a brand based on their real experiences, it makes the UGC highly authentic, credible, reliable, and trustworthy in the eyes of other potential consumers.
So, given these elements, UGC becomes the perfect choice for marketers to leverage it in their campaigns as firstly content is the most useful & impactful element of any marketing campaign.
Then, it fulfills the need for brands and marketers to show transparency, brand advocacy, build social proof, enhance brand image, and much more to drive engagement and conversions.
What Are The UGC Platforms?
A UGC platform or the user-generated content platform is a tool that helps in curating the UGC from social media platforms using hashtags, pages, profiles, etc. into a feed and display it across different marketing channels as UGC campaigns.
Social media platforms and digital platforms are filled with user-generated content will billions of users sharing exciting and valuable content daily, but the challenge is finding the right content from the right users that is valuable to your brand.
This is where UGC platforms come in as it bridges this gap by identifying the content and leveraging it transforms into an engaging and result-driven UGC campaign.
The UGC platforms are the best way to leverage UGC for your brand's marketing campaigns. In recent times, there have been many UGC platforms that have emerged in the market.
So, here we bring you the best UGC platforms for you to choose from.
Best UGC Platforms For Marketing In 2020
1. Taggbox
 Taggbox is a UGC platform or user-generated content platform that helps you in the discovery, collection, and curation of user-generated content from different social media and digital platforms into a single feed.
You can then display this feed across channels like websites, events, digital signages, outdoor advertising, email campaigns, social ads, etc. You get the functionality to curate content from platforms like Instagram, Facebook, Twitter, LinkedIn, Tumblr, and many more.
The tool gives you diverse customization options like beautiful themes for the feed, layouts, colors, styles, designs, fonts, banners, tickers, etc. Along with that, you can maintain premium content quality with content moderation features by removing or restricting irrelevant content.
Besides, you also get features like real-time automatic content updates, adding shoppable tags to content, UGC rights management, split-screen content play, sponsored posts, custom posts, measure performance through insightful analytics, and many more.
Also, the platform can be easily integrated with different devices and screens. The tool has different products for different channels and also provides a free trial for 2 weeks.
2. ShortStack
Shortstack is a unique UGC platform that has combined the user-generated content with other gamification and marketing elements to make your UGC campaigns more interesting and exciting.
The tool lets you curate content from different ways into a feed by creating contests, landing pages, giveaways, quizzes, emails, etc.  These interactive elements let you connect with your customers and gain valuable user-generated content.
You can design your own contests or landing pages as per your requirements with vast design elements. Along with that, you get full control of your campaigns and content management with the analytics.
Creation of UGC campaigns like users submitting photos and videos on social platforms and leveraging them for your benefits is a great way to get started with UGC campaigns.
The tool is secure and reliable with active customer support to help you with any issues or difficulties.
3. Crowdriff
 Crowdriff is mainly a visual content marketing platform that provides you with the option to leverage visual user-generated content for your UGC marketing campaigns.
With this tool, you can easily discover visually-engaging user-generated content from the diverse hub of content by using the topic, or theme, or hashtags for the content that you are looking for.
You get access to high-quality visual UGC and it also provides you with the option to get content rights directly from the users to securely and freely leverage their content.
Also, you can add call to action buttons on your UGC visuals campaign to drive traffic, engagement, and conversions. The tool is highly customizable and also lets you moderate your content for the campaign.
The challenge here is that it is highly dedicated to the travel and hospitality industry so the content will be mostly related to these industries. The tool also has digital assets management and insightful analytics feature for effective and efficient content management.
This tool also helps you smart curation of content with its artificial intelligence functionality along with recommendations and smart galleries.
Conclusions
User-generated content is known to be the future of successful and engaging marketing campaigns where global brands like Starbucks, Coca-Cola, Apple, Samsung, etc. are hugely investing in leveraging user-generated content.
The user-generated content has unlimited benefits and the best part is that it is easily accessible and cost-effective leading to maximized returns on your investments.
So, choose the best UGC platform from the ones mentioned above that suits your requirements and get started with your valuable user-generated content campaigns to drive brand awareness, growth, and success.