Whenever there is a need for data backup or data sharing, Outlook users have to perform file format conversion. Since the Outlook data file format is not compatible with any other application, most people prefer to save email as PDF Outlook 2010. If you have the same requirement, do not stop reading until the end.  This blog will guide its readers through some reliable approaches that work without a miss.
"Being an Outlook 2010 user, I am in need to save email as PDF. But my problem is, I have a large number of emails to process and the manual method allows me to save only one email at a time. Hence I am looking for some ingenious method to save bulk Outlook emails as PDF format. Kindly suggest any application or method that can do this job for me."
How to Save Email as PDF Outlook 2010
For those who are using Outlook 2010, there are two different methods for this conversion. One is the manual method and another is the automated method i.e. Outlook to PDF Converter. Let us read about both the methods with detailed steps.
Manual Approach to Save Outlook 2010 Emails as PDF
Since Outlook 2010 is an old version of Outlook, it lacks in many contemporary features that Outlook offers. Take exporting PDF files as an example. In Outlook 2016, users have to option to choose Printer and then save the email in PDF. The same option is unavailable for the Outlook 2010 users.
That is why they need to take the help of a lengthy method to save email as PDF Outlook 2010.  These are the steps that they need to follow.
a. To begin with, launch Outlook and open the email you need to save as PDF.
b. Navigate to the File tab and click on Save As button.
c. When the Save as dialog box appears, choose the folder where you wish to save the output file.
d. Choose HTML in the Save as type list and do not forget to give the file a name.
e. Click on the Save button and the email will be saved as HTML format.
f. Open MS Word and click on File > Open.
g. Select the HTML file you have just created.
h. Once opened on Word, users have to click again on File > Save As.
i. Now, select (*.pdf) as the file type and click on the Save button.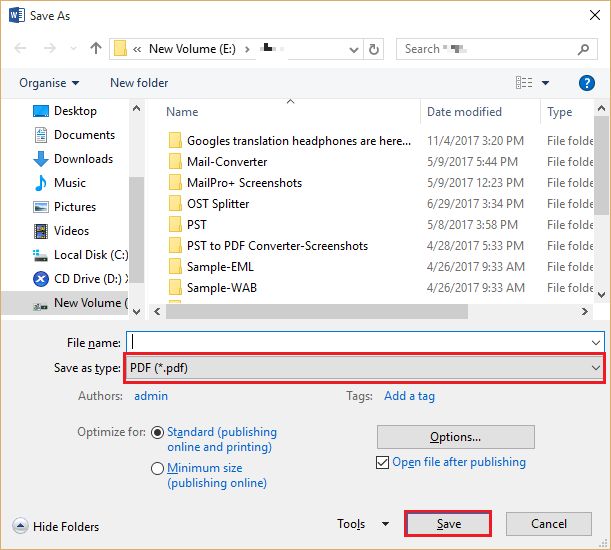 Limitations of Manual Method 
Let's know the problems users may face while performing the above method to save email as PDF Outlook 2010.
A lengthy method that can save only one email at a time
Saves email data in a plain format without image or attachment
Time-consuming when bulk email conversion is required
Smart Approach to Save Email as PDF Outlook 2010
If you are smart enough, you would know that the manual method is a lengthy one. Not only that, but it will also take up your precious time that you could have used to do something productive. So, if you have a large number of emails to process, or want to save Outlook emails as PDF with images, choose SysTools Outlook PST to PDF Converter. This application can easily save any number of emails from Outlook into PDF. In order to run this utility, follow these steps:
1. Download and launch the software.
2. Click on the Add Files button and add PST files.
3. You will be able to preview all the emails. Click on the Export button.
4. Choose the folders required for saving.
5. Click on Advanced Settings for other settings if needed.
6. Choose the target location and Export to start the process.
Why Choose the Software over Manual Method
Here are the reasons why users should choose the automated solution instead of the manual technique.
Users can easily save email as PDF on Outlook 2010 on a large number
Besides emails, the software can save other Outlook items as PDF
Outlook installation not needed as it directly saves data from PST
Corrupted and damaged PST file processing is also possible
Save images, attachments, and header message from PST to PDF
Apply PDF file related additional settings from the tool
Works for any version of Outlook including Outlook 2010
Windows-based software supports all versions of Windows OS
Try the Application before Buying
There is a demo version of this tool that users can download for free. This version contains all the features of the full version, except one limitation. Users can save only 25 emails per folder as PDF.
Wrapping Up
Due to the lack of appropriate features offered to Outlook 2010, users find themselves in trouble when they have to save email as PDF Outlook 2010. If you are one of them, you may follow the methods mentioned in the blog. The manual solution suggested here is good for a small number of emails. But, if you are planning to save a bulk number of Outlook emails into PDF format in Outlook 2010, the suggested software is the best and reliable solution for you.