Introduction
Occupational health and safety (OHS) is a critical aspect of any workplace, ensuring the well-being of employees and compliance with regulations. In Dubai, as in many other parts of the world, organizations prioritize OHS through various training and certification programs. One of the most respected qualifications in this field is the NEBOSH International Diploma (IDip). This article explores what the NEBOSH IDip is, why it's valuable in Dubai, and how individuals and organizations in the emirate can benefit from it.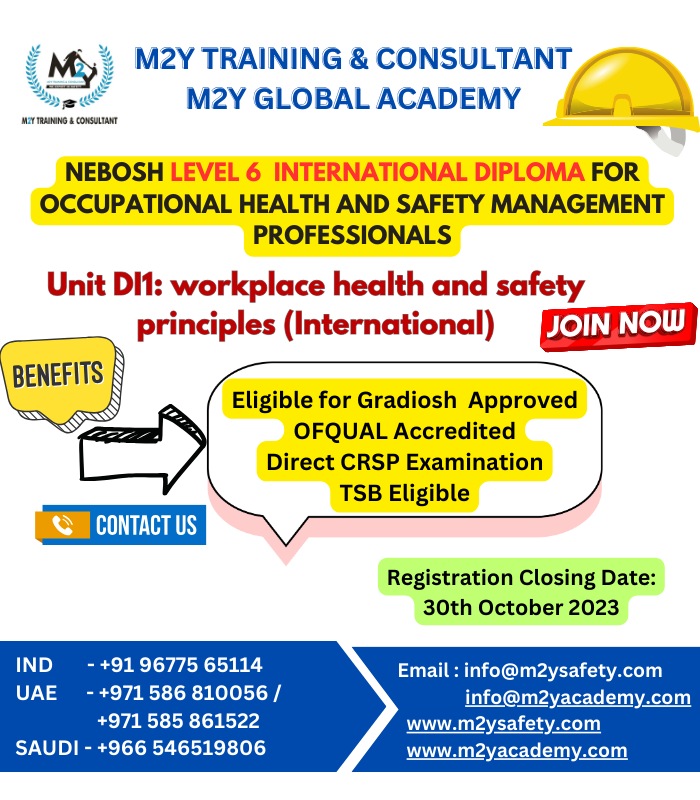 Chapter 1: What is NEBOSH?
1.1 NEBOSH Overview: NEBOSH, or the National Examination Board in Occupational Safety and Health, is a UK-based organization that specializes in providing globally recognized qualifications in health, safety, and environmental management. NEBOSH certifications are highly regarded worldwide for their rigor and relevance.
1.2 NEBOSH IDip: The NEBOSH International Diploma (IDip) is an advanced-level qualification offered by NEBOSH. It is designed for professionals who aspire to become competent and knowledgeable health and safety practitioners, capable of managing complex OHS issues.
Chapter 2: NEBOSH IDip Structure
2.1 Core Modules: The NEBOSH IDip comprises four core modules:
Unit IA: International Management of Health and Safety: This unit covers the principles of health and safety management, legal frameworks, and international standards.
Unit IB: International Control of Hazardous Agents in the Workplace: Focusing on workplace hazards, this unit explores the control measures required to mitigate risks related to chemical, biological, physical, and ergonomic agents.
Unit IC: International Workplace and Work Equipment Safety: This unit examines safety in various workplace settings and the management of work equipment, emphasizing risk assessments and control measures.
Unit ID: International Application of Health and Safety Theory and Practice: The final unit integrates the knowledge gained in the previous modules, requiring candidates to apply their understanding to real-world scenarios.
2.2 Assessment: Each core module is assessed through a written examination, with the addition of a practical assignment for Unit ID. These assessments ensure that candidates have a deep understanding of the subject matter.
Chapter 3: Importance of NEBOSH IDip in Dubai
3.1 Dubai's Thriving Economy: Dubai is a global business hub with a diverse economy that includes sectors like construction, oil and gas, tourism, and finance. Ensuring the safety and well-being of workers is paramount in these industries.
3.2 Legal Requirements: The NEBOSH Course in UAE has stringent OHS regulations. Organizations must adhere to these regulations to operate legally and avoid potential fines or penalties.
3.3 International Recognition: NEBOSH qualifications, including the IDip, are globally recognized and respected. In Dubai, where many international businesses operate, having a NEBOSH IDip can enhance career prospects.
3.4 Competitive Advantage: Employers in Dubai often seek professionals with internationally recognized OHS qualifications. Having the Safety Training Institute NEBOSH IDip on one's resume can set individuals apart in a competitive job market.
Chapter 4: Benefits of NEBOSH IDip in Dubai
4.1 Enhanced Knowledge and Skills: Completing the NEBOSH IDip equips individuals with in-depth knowledge of OHS principles and practices, making them valuable assets to employers in Dubai.
4.2 Improved Career Prospects: With the NEBOSH IDip, professionals can pursue higher-level roles such as OHS managers, consultants, or auditors, which are in demand in Dubai's corporate landscape.
4.3 Risk Reduction: By applying the knowledge gained through the NEBOSH IDip, organizations in Dubai can reduce workplace accidents, injuries, and illnesses, ultimately saving costs and protecting their reputation.
4.4 Legal Compliance: Dubai-based companies can ensure compliance with local and international OHS regulations by having NEBOSH-qualified personnel on their teams.
Chapter 5: NEBOSH IDip Training in Dubai
5.1 Training Providers: Best NEBOSH Institute in Dubai offer NEBOSH IDip courses. These providers are accredited by NEBOSH and deliver high-quality training to prepare candidates for the examinations.
5.2 Flexible Learning Options: Training programs often offer flexible learning options, including classroom-based courses, online learning, or a blend of both, catering to the diverse needs of individuals.
5.3 Duration: The duration of NEBOSH IDip courses in Dubai may vary, but they typically take several months to complete, allowing candidates to balance their studies with work commitments.
Chapter 6: The Examination Process
6.1 Examination Dates: NEBOSH conducts examinations for the IDip qualification at designated centers worldwide, including Dubai. Candidates must register for exams on specific dates.
6.2 Examination Format: Exams consist of a combination of long and short answer questions, as well as a practical assignment for Unit ID. These assessments evaluate candidates' understanding and application of OHS principles.
6.3 Passing Criteria: To pass the NEBOSH IDip, candidates must achieve a minimum passing score in each module. The exact pass marks are determined by NEBOSH and communicated to candidates.
Chapter 7: Post-Certification
7.1 Certification: Upon successfully completing all modules and assessments, candidates receive the NEBOSH International Diploma in Occupational Health and Safety, a prestigious credential recognized worldwide.
7.2 Career Progression: Graduates of the NEBOSH IDip often find themselves eligible for advanced roles in OHS management, consultancy, and auditing, both within Dubai and internationally.
7.3 Continuous Professional Development (CPD): OHS professionals in Dubai are encouraged to engage in CPD activities to stay up-to-date with evolving industry standards and maintain their NEBOSH IDip certification.
Conclusion
In conclusion, the M2Y Safety Consultany offers NEBOSH International Diploma in Occupational Health and Safety. It is a highly valuable qualification for individuals and organizations in Dubai. With its comprehensive curriculum, global recognition, and potential for career advancement, the NEBOSH IDip is well-suited to the dynamic business environment of Dubai. As the emirate continues to grow and diversify its economy, ensuring the safety and well-being of its workforce remains a top priority, making the NEBOSH IDip an essential asset for OHS professionals in the region. Whether you're a professional looking to enhance your career prospects or an organization seeking to improve workplace safety, the NEBOSH IDip in Dubai is a pathway to success.