We often have seen Muslims to doing kneeling and prostrating on small size rugs, which is called prayer rugs. I can say in different words like a small carpet or simply a piece of embroidery which used for prayer purpose.
A good Muslim performs the ritual prayers five times a day, and each time they used rugs for kneeling. In Islamic culture, the prayer should be the first words a newborn baby hears in their ear. Children below seven years are not required to perform the prayer; all rituals they learn after the age of seven-year. Muslims must clean the space before starting the prayer. They generally used prayer rugs for this purpose.
Background And Importance Of Prayer Rugs
For Muslims, ritual worship is an art provided by unique design rugs or a small piece of embroidered carpet for the praise to Allah five times a day. The size of the prayer mat depended on the specific necessity and their posture. Each Muslim have their own prayer mat.
Islamic prayer, the only thing which is required to pray, is a neat and clean place of worship. Prayer rugs become a traditional way to ensure that the area of the prayer is clean. The mats have enough space to stay comfortably for kneeling or prostrating. Nowadays, prayer rugs are also available in different materials and various designs to feel like complete peace of mind.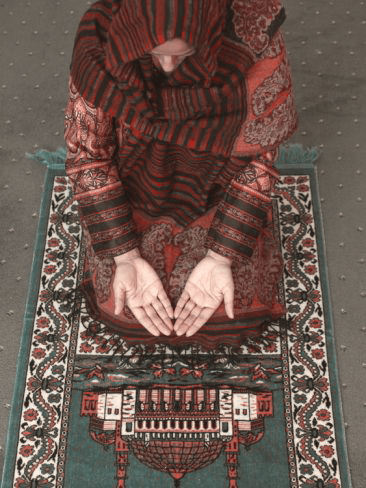 Islamic landmark Kabba or mecca has drawn on their prayer rugs, which gives a very peaceful look to a prayer rug. Rugs designed in the top to bottom manner, the bottom part where worshipper stand and the top part is towards the direction of prayer.
At the time of the prayer, a worshipper lays mat on the ground, on the direction towards the mecca in Saudi Arabia. The compass prayer rugs are available in the market to get exact directions. After the prayer is done, the rug immediately folded and put at the specific place for the next use. And they ensure that the rugs remain clean.
Step to maintain the prayer rugs
Prayer rugs should be taken care of the holy way and should not disrespect. It is an essential part of Islamic prayer.
1. Immediate fold and roll the prayer rugs after the use
2. Place your prayer rugs in the clean space.
3. Time to time, clean your prayer mat. If your prayer rug is made from wool vacuum it, for cotton rugs, you need to deep clean, while silk rugs need dry clean only.
4. If any stain is on the prayer rug, then clean it as soon as it is possible. It is hard to remove the stain once it ultimately sets on it. So clean as early as possible.
5. The smell of smoke easily placed in the rug and leave one blot in the rug so, avoid smoking around it. And also keep reaching out of the flame area.
The value of the prayer mat is beautifully explained in the words of the famous poet Nizar Qabbani, who said, What Are You Doing to Me: "And from my mother's prayer rug/That first taught me/The path to God…"