If you're an adventure enthusiast, an ardent lover of the Himalayas, or simply someone seeking an extraordinary experience, the Pangarchulla Peak trek in the Indian state of Uttarakhand is bound to captivate your heart. In this comprehensive guide, we'll delve into the mesmerising journey, outlining the challenges and rewards that await trekkers on this remarkable adventure.
Introduction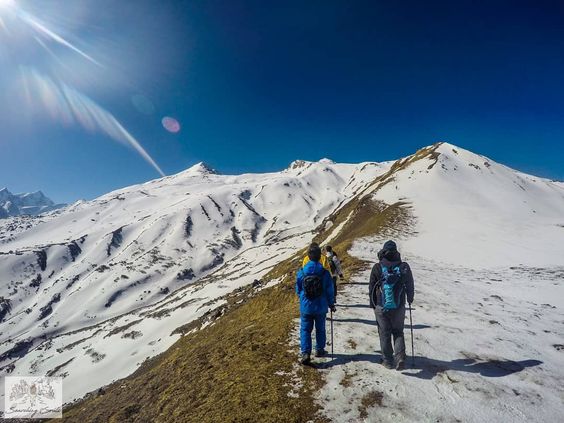 The Allure of the Pangarchulla Peak
The Pangarchulla Peak, standing tall at 14,700 feet above sea level, is a sublime gem nestled in the Garhwal Himalayas. The allure of this trek lies in its pristine beauty and the thrilling ascent it offers to avid trekkers. The journey to Pangarchulla not only challenges your physical endurance but also rewards you with awe-inspiring vistas of the Himalayan giants. If you are searching for a trek to Pangarchulla Peak Checkout The Searching Souls.
Pangarchulla Peak is located in the Chamoli district of Uttarakhand, a region celebrated for its breathtaking landscapes and abundant natural beauty. Situated in the Garhwal Himalayas, this trek provides trekkers with a unique opportunity to immerse themselves in the heart of the Indian Himalayas.
Preparation
Physical Fitness and Gear
To embark on this trek, you need to be in good physical shape. Pangarchulla is a high-altitude trek with challenging terrains, so being physically fit is essential. Regular cardiovascular exercises, strength training, and flexibility exercises are highly recommended. Aim to work on your fitness at least 2-3 months before the trek.
In addition to physical fitness, having the right gear is crucial. Here's a list of essential items you should consider:
Trekking Boots: Sturdy, comfortable trekking boots with good ankle support are a must. Make sure your boots are well broken in to prevent blisters.
Clothing: Layering is key. Pack moisture-wicking base layers, insulating layers, and waterproof and windproof outer layers. Warm hats and gloves are necessities.
Backpack: A comfortable backpack with a capacity of around 40-50 litres to carry your essentials.
Sleeping Bag and Mattress: Choose a sleeping bag rated for sub-zero temperatures. A good sleeping mattress for insulation is also necessary.
Trekking Poles: These can be a significant help, especially during steep ascents and descents.
Water and Hydration: Carry a reusable water bottle and a hydration bladder to stay hydrated. There are ample water sources on the trail, but it's crucial to treat the water or carry purification tablets.
First Aid Kit: A basic first aid kit with essentials like pain relievers, bandages, and antiseptic ointments.
Trekking Accessories: Headlamp, sunglasses, sunscreen, toiletries, and a multipurpose knife.
Day 1: Haridwar to Joshimath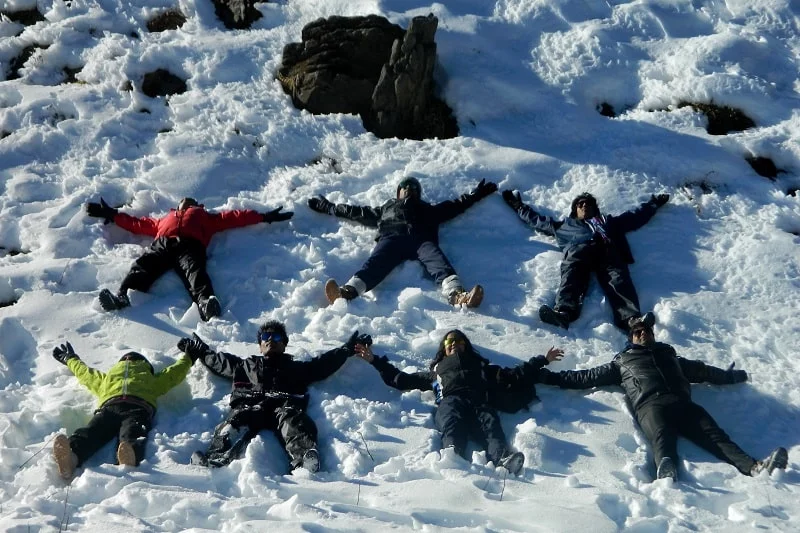 The adventure begins with a road trip from Haridwar to Joshimath, a journey marked by winding roads and scenic beauty. Haridwar is well connected by train and road to major Indian cities. Upon reaching Haridwar, you'll board a vehicle that will take you on a picturesque drive to Joshimath. The journey takes approximately 10-12 hours, covering a distance of about 280 kilometres.
Joshimath, often referred to as "Jyotirmath," is a sacred town and a major pilgrimage center in the Chamoli district of Uttarakhand. It serves as the gateway to several Himalayan treks, including Pangarchulla. You'll spend the night in a hotel or guesthouse in Joshimath to rest and acclimatise.
Day 2: Joshimath to Auli
The second day of your journey brings you to Auli, a stunning Himalayan meadow and a renowned skiing destination. It's a scenic drive from Joshimath to Auli, which takes around an hour. The road meanders through lush green forests and offers breathtaking views of the Nanda Devi mountain range.
Auli is a serene location, situated at an altitude of approximately 8,200 feet above sea level. IIt acts as your starting point for the Pangarchulla hike. You can stay in comfortable lodges or campsites here, enjoying the fresh mountain air and the panoramic views of the surrounding peaks.
Day 3: Auli to Khulara
On the third day, you'll begin the actual trek. The trek starts from Auli and takes you to Khulara, a picturesque campsite located at an altitude of approximately 11,000 feet. The trail from Auli to Khulara is around 6-7 kilometres and takes about 5-6 hours, depending on your pace.
The path is dotted with dense forests, lush meadows, and splendid views of the Himalayan ranges. As you ascend, the air becomes crisper, and the scenery becomes more enchanting. Khulara is a small but beautiful campsite where you'll spend the night.
Day 4: Khulara to Pangarchulla Base Camp
The next leg of your journey takes you from Khulara to the Pangarchulla Base Camp. The distance is approximately 6 kilometres, and the trek usually takes around 5-6 hours. The trail is steeper and more challenging, with rocky sections and snow patches as you gain altitude.
The Pangarchulla Base Camp, situated at an elevation of about 13,500 feet, provides a more rugged and remote environment. You'll set up your camp here, and this is where the real acclimatisation for the summit push begins.
Day 5: Summiting Pangarchulla
The highlight of your Pangarchulla hike is the summit day. You'll start early in the morning, well before dawn, to make the final push to the summit. The ascent to the top of Pangarchulla, at 14,700 feet, is the most challenging part of the trek.
The trek involves a steep climb, sometimes on snow and ice, and you'll need to use crampons and ice axes. Depending on the weather and the trail conditions, this part of the trek can be physically demanding. Proper acclimatisation is crucial to ensure a safe and successful summit.
As you make your way up, the breathtaking views become your motivating factor. The panoramic vista from the summit is awe-inspiring, offering a 360-degree view of the surrounding peaks, including Nanda Devi, Hathi Parvat, Ghori Parbat, Kamet, and many others. It's a moment of triumph and serenity.
After savouring the views and capturing memories through your camera lens, you'll begin your descent back to the Pangarchulla Base Camp.
The descent is equally challenging, and you'll need to carefully navigate the steep slopes. Once you reach the base camp, you can rest, have a warm meal, and reflect on your incredible achievement.
The Challenges
High Altitude and Acclimatization
One of the most significant challenges of the Pangarchulla trek is the high altitude. Trekkers are exposed to altitudes above 13,000 feet, which can lead to altitude sickness if not acclimated properly. It's essential to spend a couple of days at intermediate altitudes, like Auli and Khulara, to allow your body to adapt to the lower oxygen levels.
Hydration is crucial. Drink plenty of water throughout the trek, and consider carrying purification tablets to treat water from streams. It's essential to recognize the symptoms of altitude sickness and descend to lower altitudes if you experience severe symptoms like severe headache, nausea, or shortness of breath.
Ever-Changing Weather
The Himalayas are renowned for their unpredictable and ever-changing weather. Trekkers must be prepared for sudden changes in weather conditions. Even during the peak trekking season, you can encounter snowfall and rain. It's vital to carry waterproof clothing and be ready for unexpected weather fluctuations.
Tough Terrain
The terrain in the Pangarchulla trek can be quite challenging. You'll encounter rocky paths, steep ascents, and sometimes snow-covered trails. Trekking poles can be extremely useful to maintain balance and reduce the impact on your knees and joints. Ensure that your trekking boots have good traction and ankle support, as they will be your best friends on these rugged trails.
The Rewards
Breathtaking Views
The panoramic views from Pangarchulla's summit are the ultimate reward for your efforts. You'll be surrounded by the towering Himalayan peaks, and the feeling of being on top of the world is truly unmatched. The trek offers a visual feast for nature lovers and photography enthusiasts, with every turn revealing a postcard-perfect landscape.
Sense of Accomplishment
Completing the Pangarchulla trek is not just about reaching the summit; it's about challenging your physical and mental limits. The trek tests your stamina, endurance, and determination. The sense of accomplishment that comes with conquering this challenging terrain is immeasurable.
Conclusion
Pangarchulla Peak Trek: Worth Every Step!
In conclusion, the challenges and rewards of the Pangarchulla Peak trek make it an unforgettable adventure. It's a journey that tests your mettle and rewards you with nature's magnificence. If you seek an experience that combines thrill and serenity, this trek is a must.
The trek to Pangarchulla Peak is not just a physical journey; it's a spiritual and emotional one. It offers a deep connection with nature, a sense of fulfilment, and an opportunity to explore your own limits. Every step you take on this trek is a step towards self-discovery and a greater understanding of the awe-inspiring Himalayas.
The experience of trekking in the Garhwal Himalayas, with the grandeur of the Nanda Devi sanctuary in the backdrop, is an experience like no other. It's an opportunity to immerse yourself in the raw, unspoiled beauty of the Himalayan wilderness.
If you're ready to take on the challenge, to push your boundaries, and to be rewarded with breathtaking views and a sense of achievement, then the Pangarchulla Peak trek is calling your name.
So, gear up, prepare yourself physically and mentally, and get ready for an adventure that will leave an indelible mark on your heart and soul.
FAQs
What's the best time for Pangarchulla trek?
The best time is during the spring and autumn seasons, from April to June and September to November, when the weather is pleasant and the views are clear. However, the trek is also possible in the winter for experienced trekkers.
Are permits required for this trek?
Yes, you need permits from the Forest Department, as the trek passes through protected areas. These permits can be obtained through local tour operators or from the Forest Department office in Joshimath.
How difficult is the Pangarchulla trek?
The trek is considered moderate to challenging, suitable for experienced trekkers. Proper physical fitness and acclimatization are crucial for a successful trek.
Can I do this trek solo?
While it's possible to do the trek solo, it's safer and more enjoyable to trek with a group or a guide, given the challenging terrain and the need for local knowledge.
What should I pack for the trek?
You should pack essentials like warm clothing, trekking boots, a sturdy backpack, rain gear, and personal items. A detailed packing list is advisable to ensure you're well-prepared for the journey.