In this highly competitive tech world, all manufacturer laptops and computers are coming up with strong and premium devices. As the devices are getting upgraded, so are their prices doing take offs. But if you are looking for a reliable laptop that is both functional and affordable then you are in the right place! We understand the fact that laptops have become a necessity for everyone. From professionals to students to Netflix bingers, everyone needs a reliable laptop.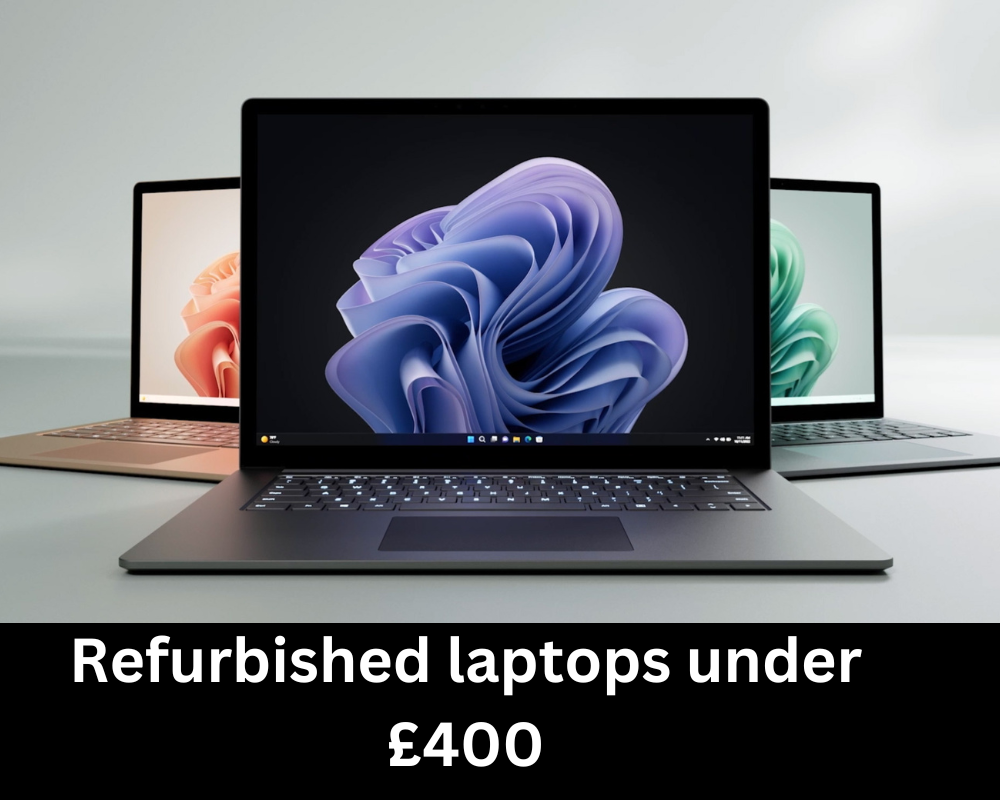 Finding a refurbished laptop under £400 can be a little challenging. That's why we have listed the top refurbished laptops that not only suit  your budget but are also extremely reliable. Let's take a look!
1.  Lenovo ThinkPad T490 (20NYS2S600)
Intel Core i5 Processor
14 in. Screen Size, 1920 x 1080
16 GB RAM, 256 GB SSD
Intel UHD Graphics GPU
Windows 10 Pro
Connectivity: HDMI, USB 3.0
The Lenovo ThinkPad T490 is the ideal laptop for professionals on-the-go. Thanks to the ultralight weight and super-thin chassis, you can carry this device all day without tiring out your shoulder muscles.
Under the hood, the laptop is powered by 8th-generation i5 processors and 16GB RAM. For even more seamless performance, you can upgrade the RAM of this laptop to up to 32GB. Whether you are working on a group project or entering data in a spreadsheet, the ThinkPad T490 can handle it all with its high-end processor!
The 720p webcam and dual noise-cancelling microphones make remote working easier than ever before. You can join meetings, take notes, and share your opinions with minimal interruptions.
The certified refurbished ThinkPad T490 is available at Laptop Outlet. For your peace of mind, the retailer also offers a year-long warranty with the product. All in all, this is the best refurbished laptop for professionals on a tight budget.
2.  ASUS (E210MA-GJ181TS)
Intel Celeron N Processor
11.6 in Screen Size, 1366 x 768
4 GB RAM, 64 GB SSD
Intel UHD Graphics GPU
Windows 10 Home S
Connectivity: HDMI, USB 3.2
If you are looking for a used laptop under £200 – £299, the ASUS (E210MA-GJ181TS) is an amazing option. The laptop comes with an Intel Celeron N Processor, 4GB RAM, and Intel UHD Graphics, making it perfect for entry-level users or educational purposes.
Certified refurbished means you'll be getting a laptop that has been deeply tested to address each minor to major fault within the device. For instance, most laptops start facing battery drainage issues after some time of use. This is because lithium batteries have a specific lifecycle, and after completing some hundred recharging cycles, their lifecycle starts to deplete.
If you get a used laptop, there is a risk of ending up with a device that has all the faults and damages "as is". However, with a refurbished laptop, you can rest assured that all of the internal and external components are working perfectly fine.
Therefore, if the battery life of a laptop is poor, it will be replaced by a manufacturer-approved counterpart, and after that, the device will be resold to the customer.
3.  ASUS (E410MA-EB164TS)
Intel Celeron N Processor
14 in. Screen Size, 1920 x 1080
4 GB RAM, 128 GB SSD
Intel UHD Graphics GPU
Windows 10 Home S
Connectivity: HDMI, USB 3.2
This is another used laptop under £200 – £299. Think of it as the greatest steal that you can make for yourself in 2023. Talking about specifications, the E410MA-EB164TS comes with almost similar features to any other entry-level laptop.
Equipped with an Intel Celeron Processor, 4GB RAM, and a 128GB SSD, the laptop is ideally suited for light multitasking and casual computing. There are many special features in this device, like the ASUS numberpad, which can take your user experience to another level.
This is also the best refurbished laptop for individuals who don't stick to the same place for a long time. The battery life of the device is exceptional. Once recharged, you can easily work, play, or study on your laptop for the entire day.
When getting a certified refurbished version that comes within your price bracket, remember that it may have some cosmetic flaws. However, as long as the performance is concerned, you won't have to face any issues.
4.  Dynabook Satellite Pro L40 (A1PJA11E1116)
Intel Core i5 Processor
14 in Screen Size, 1920 x 1080
8 GB RAM, 512 GB SSD
Intel UHD Graphics GPU
Windows 10 Pro
Connectivity: HDMI, USB 3.2
The Dynabook Satellite Pro is one of the top graded laptops in 2023. Toshiba has outperformed itself in its Satellite Pro series, and the A1PJA11E1116 is one of the most reliable and versatile laptops in the industry right now.
Firstly, the L40 was released around May 2020, which means that at the time of writing, the model is only 3 years old. Hence, you can easily purchase and use the laptop for the next 2–3 years without missing out on much.
Now coming to specifications, the laptop comes equipped with the latest 10th generation processors, 8GB RAM, and Intel UHD Graphics. The clock speed is 1.6 GHz but can go up to 4.2 GHz in turbo mode.
Weighing only 1.6kg, it is one of the lightest laptops yet. Simply carry it in your bag or shove it under your arm to get work done even when you are not sitting at your office desk. Also, the anti-glare screen lets you work for as long as you want without inflicting damage on your eyes.
5.  ASUS Chromebook (C223NA-GJ0040)
Intel Celeron Processor
11.6 in. Screen Size, 1366 x 768
4 GB RAM, 32 GB SSD
Intel HD Graphics GPU
Chrome OS
Connectivity: USB 3.1, USB-C
If you are looking for the best refurbished laptop for your kids that is cheap, efficient, and durable, the ASUS Chromebook C223NA is it!
From checking emails to bingeing on your favourite shows to tracking your kids' activities on the internet, the Chromebook C223NA can handle it all.
Not only this, but the device is also extremely durable. There is an in-built virus that safeguards the device against unauthorised access. Also, with 4GB RAM and 32GB SSD storage, you can enjoy fast-paced internet browsing. The Chrome OS further makes it one of the most highly graded laptops.
By getting a certified refurbished model, you can purchase this laptop for less than 100 pounds. It sounds too good to be true, right? Well, if you want to avail such offers but do not know exactly from where to buy, check out Laptop Outlet and see for yourself now. You will find a range of remarkable laptops from the industry leading manufacturers.
Final Remarks
Refurbished laptops are a great way to save money without compromising on performance. By doing some prior research and carefully selecting your retailer, you can easily get yourself a valuable device.
We all know the basic factors to consider before purchasing a laptop, i.e., processor, RAM, storage, etc. However, while purchasing used or refurbished laptops, it is advisable to look at the original release date of the model and the grade of your selected laptop, i.e., Grade A, B, or C.
In this article, we have mentioned the top refurbished laptops under £400. All of the selected laptops come with good processors and displays and are certified refurbs. You can shop with peace of mind knowing that your product is free of any faults or damages.We have also microsoft surface laptop, lenovo laptop and refurbished Pcs.