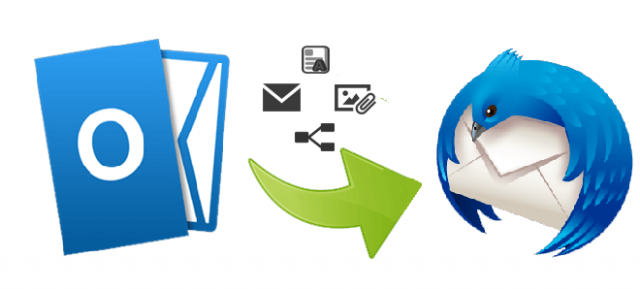 Transfer Mac Outlook data to Thunderbird is the most searched query of Mac Outlook users. Most of the Mac Outlook users search for an appropriate solution to import Outlook data file to Thunderbird for mac. Due to the user-friendly interface and easy to use features of Mac Thunderbird it becomes more demanding than Mac Outlook email client. In this Blog, we will discuss how to import Outlook Mac to Thunderbird along with its reasons.
"Hi, I want to transfer my Mac Outlook data to Thunderbird. I have been using Outlook for many years and it contains a lot of important data. Please provide a simple way to perform export Outlook for Mac to MBOX for Thunderbird operation."
Reasons to Transfer Mac Outlook data to Thunderbird
There are multiple emails client in the market and with a different unique feature. The users have the freedom to select them according to their need. There are a number of reasons to import Outlook mac to Thunderbird.
Some of them are as follows:
Cost: Thunderbird is free of cost application and it is an open-source email client also. Thunderbird will not cost anything for its use for the service. This is the reason why most of the user loves about Thunderbird.
Compatibility with multiple platforms: Due to the compatibility of Thunderbird with multiple OS like Windows, Mac OS, Linux & UNIX, it is widely preferred by most of the users. On the other hand, Outlook is compatible with Windows and Mac OS only and use cannot transfer Mac Outlook Data to MS Outlook too. Whereas it is easy to do this between Mac Thunderbird to Windows Thunderbird.
Now that you are aware of various reasons why user transfer Outlook for mac to Thunderbird.
Techniques to Import Outlook Mac to Thunderbird
Mac Outlook emails, calendars, contacts, etc. can be transferred to Thunderbird using two methods. One of them is to use a manual approach, while another by using third-party software to export Outlook for Mac to MBOX for Thunderbird.
Method 1: Transfer Mac Outlook to Thunderbird Manually
The Manual approach to import outlook data file to Thunderbird for Mac in the same machine is quite a tricky task as it requires technical knowledge. You have to use a dummy Gmail account for IMAP configuration.
Open Mac Outlook on your machine and click on Tools >> Account.
Now, setup and configure the Gmail account in Mac Outlook email client.
After configuration select All the mailbox items (Shift + select items) and then right-click >> Move folder >> choose folder.
In the pop-up window, enter the folder of Gmail account and click on the move button.
Note: This process will take some time to transfer all emails from Mac Outlook to Gmail account.
After that, all the emails of a mailbox will be transferred to Gmail account and sync is complete.
Now, perform this operation for all mailboxes and after completion sign-in to Thunderbird Mac.
Configure the Gmail account in Thunderbird for Mac and sync/download all the emails into Thunderbird.
Now, you can access all your Mac Outlook Emails in Thunderbird Account.
Limitation of Manual Methods
The manual method to import Outlook Mac to Thunderbird has its limitations which are as follows:
Manually transferring emails from Mac Outlook to Thunderbird take a lot of time and it can create trouble for non-technical users.
Configuring IMAP Server using Gmail – It is hard for a non-technical person to configure IMAP server in Gmail to transfer mac Outlook data to Thunderbird. There are various settings need to be done to configure the server.
Method 2: An Automated method to Transfer Mac Outlook Data to Thunderbird
To avoid all the limitations of the Manual method, the user can use a third-party tool like SysTools Mac OLM Converter. This tool allows you to convert OLM file to MBOX for Mac file format. As the MBOX is the universal format and widely used by all the email clients for storing emails. You can import Outlook Mac to Thunderbird by using import option in Thunderbird.
Importance of Mac OLM Converter
It will convert all the Mac Outlook emails, contacts, calendars, etc to MBOX format.
Any size of Mac Outlook OLM file can be converted
Create a Single Thunderbird file for every OLM file.
No need for Outlook installation for conversion
No IMAP configuration and user-friendly interface.
Conclusion
In this blog, we have guide the Mac Outlook users how to import Outlook Mac to Thunderbird. We tried to explain the ways using which you can import / transfer mac Outlook data files to Thunderbird, so the user doesn't face all the trouble which they faced while using outlook. However, the manual approach to migrate Mac Outlook to Thunderbird is quite difficult and hectic. To import outlook data to Thunderbird with ease, we recommended you to use an automated tool.